I'm going to be talking about hot dogs.

Specifically, what "Chicago Style" is, what it means to me, and why it is culturally significant. I'll also be talking about "Jimmy's Red Hots" and how their hot dog contrasts to the "Chicago Style" trimmings.
This is more or less, about an American experience. This is not a review.
The "Chicago Style" hot dog. The "Magnificent Seven". Generally, if you go to a place that offers a hot dog in Chicago, that's what you're getting.
Mustard, Relish, Onion, Peppers, Pickle, Tomatoes, and Celery salt. For me, it's not really worth getting into why these came to be it, plus it would really tickle the fancy of which ever pricks decided, 'This is Chicago Style!"
Hey, who writes the books?
For me, "Chicago style" simply pays homage to a time when hard working people were not going to purchase a "plain" dog. With a choice you can get less, but if you don't have much you'll take everything you can get.
There are many theories on how it came to be. Most people will agree that the roots are from Maxwell Street market vendors around the Great Depression. The idea of getting a little more in a time of limited supply, when availability and affordability of meat was an issue, people needed a meal that could provide. We're talking about multiple ethnicities, a lot of people that came here with basically nothing but knowledge and tradition. Their sense of purpose, discipline, resourcefulness and creative curiosity is what separates the living from the dead, then and now. These are traits we see less of today, but immigrants provide that necessary refreshment to our evolving generations as Americans.
So at a market full of vegetables, hot dog vendors began "dragging it through the garden". It is highly unlikely that the only vegetables at the market, were the ones we know that come on the "Chicago Style" hot dog today. Think about how far a head of cabbage or lettuce could go grated and used as a topping? And at the cost of what? By they way, how did cabbage not make it on the team in a city full of German, Irish, Polish, Czech and Jewish immigrants?
What about winter? Let me remind us of those necessities. Other than root vegetables like onion and horseradish that go well with sausage, there are many fermented goodies like, sauerkraut, pickled peppers and giardiniera. And of course the incredibly versatile pickled cucumber that finds itself in many forms; it can come sweet or salty, chopped, sliced, speared, the brine itself is commonly used in mustards.
Let's face it, unless you're a die hard Chicagoan, the "magnificent seven" isn't an out of this world perfect compliment to meat in tube form. It's a good one, don't get me wrong, but a lot of places fuck it up.
One of the reasons why a Chicago style dog can suck at an average place is because of temperature. This usually falls in the fault of establishments that serve thick masses of tomatoes and pickles that are too cold. They should be closer to room temperature. Don't make it a COLD DOG ! It needs to be a HOT DOG.
At a respectful dog stand. We should stay away from picking into their order and simply just say something like, "Just the way you make it." or Everything on it". It is easier for both parties, not to mention it adds to the individual experience of where you are. You'll be surprised with how many slight variations are out there, then and now. For example, Fat Jonnies on the South Side with the fresh peeled cucumber. Killer.
You want to be picky? Eat at home.
This brings us to Jimmy's Red Hots, not to be confused with dozens of other family run restaurants in Chicago called Jimmys, is a hot dog stand in Humboldt Park. It's been sitting at Pulaski and Grand since 1954.
At Jimmys they serve the " Mag four"; mustard, onion, relish and a good amount of peppers. These are some of the best hot peppers, they're bigger and less vinegary. These peppers essentially substitute the need of ketchup for your fries, the fries chase well with that kick.
In many ways, these trimmings offer just enough flavor without taking away from the salty, umami snap of a natural incased hotdog. Some people call this form of trimmings, the "depression era dog", but there is nothing depressing about it. Yes, it is a simplified dog with condiments that are cheap and readily available, but with economics aside, if we are talking taste buds, it's fucking perfect. You don't eat it thinking, "wow, the great depression sucked." The trimmings are minimal, with good purpose. Its a "Taste over Function" creation.
Today most places that serve a dog in Chicago, aren't at a mobile stand, but rather an actual building where there are fryers. French fries are delicious, cheap, and filling. And because of the filling potatoes, you can easily leave behind the full garden and save some real estate for another dog. Double dog it! Double the snap! it's a no brainer!
I have a theory that "double dog it" is the answer to most difficult scenarios of life.
Try it, let me know how it works.
Like any respectable restaurant, fries are important and it's no different at Jimmy's. They probably have around a dozen fryers in the tiny place, with stacks on stacks of fresh cut fries somewhere in between or past the double fry method. The idea behind the double fry is, by stopping the cooking process and letting them cool for a bit, you create more pathways for water to escape, resulting in a crispier fry. Not to mention, by having numerous batches of precooked fries, you're guaranteed to get super hot fries rolled up in your order quick.
They have a highly respected "less is more" approach to running the business.
Not many places can pull this off. Less is only more if you get the basics right, and that consistency comes from a lot of experience, quick hands, and a simplified menu.
From my knowledge, there are 3 things on the menu, 4 if you include the double dog. The Polish seems to be a hit in the community. The Vienna Beef Polish is a thicker frankfurter with hints of spices from the old country like marjoram and allspice. They also have Supreme Tamales, an americanized version similar to the TOM TOM.
When you walk in, they're quick to say, "Next customer please step down" I have seen people that walk in and ask to themselves out loud "What do i want?". Don't be this person. You had time to decide what you wanted before you walked into a dog stand.
For fuck's sake, there are only 3 things on the menu!
Keep the line moving.
I found myself eating at the counter between a cop and someone that clearly had an addiction other than hot dogs. Her legs were shaking, I could almost hear her legs.

Another customer walked in and couldn't help but notice her legs also and said, "Damn, if that dog had legs you'd been chasing after em!." We shared a laugh, and then he followed,
"But I've been there, don't worry."
When he said, " But I've been there, don't worry." It had me thinking what he meant by that.
I guess it could have meant a few things.
She was tweaking hard, and he wasn't really judging her for it. Hell, I reach for the sauce more than I should, but I also like to think she was just stoked to be eating comforting food. Comfort food is of nostalgic taste, and when it's affordable, accessible, and literally warm it shows it's more than just survival, its sustaining. I'm not sure fast food chains have the same effect. She probably hadn't eaten in a while, we all get excited before or during the early stages of eating food. Whether that be our legs shaking, feet tapping, our brains humming.
Jimmy's owners state, "When we were kids, our grandfather, the original Jimmy himself explained that during wartime, ketchup's acidity kept perishable meats from going rotten, and covered up the taste if it did go bad."
They have some rules of the road, and to save their breath they use signage. Mostly right at the ordering counters, signs like, "No ketchup ever!"
Do they really need signs for that? I thought the first time I walked in, but that faded quickly.
And if you're talking on your phone asking your kid "what do you want on your dog?" If it is a way to sympathetically get ketchup on your kid's dog. You not only wont get that, but they wont even take your order because you're on your phone while placing it. They have signs for that too.
Once I had a quick wait in line, and the guy in front of me placed an order, and asked "Oh and make sure my fries are hot" the crew found time to just stare at him for a few seconds before the cashier told him "I don't serve cold fries."
No one is getting special treatment at the joint. Everyone gets the same service.
This is a dying art. As newer establishments or ones that are trying to sustain a business will bend over and make you feel special or cater to their personal needs. Everyone gets taken care of the same way here.
All kinds of customers go to the spot, the cliental is vast. Regular working people, old locals, new locals, always cops, city workers, even addicts and hustlers.
The egalitarian attitude within the menu, location, and cliental, is what makes Jimmy's stick out. Like most important establishments in any part of the world, it's about food that is accessible to all and cheap cuts done right.
In a location of the city not far from drugs, prostitution, and gang related violence. Jimmy's sits there, as a sort of safe zone. It gives everyone a chance to take a break and catch up on something tasty.
The place has got quick hands, hot fries, flavor packed snaps, and empty stomachs that over power the judgements of economic status and discriminative tensions.
Shut up and eat.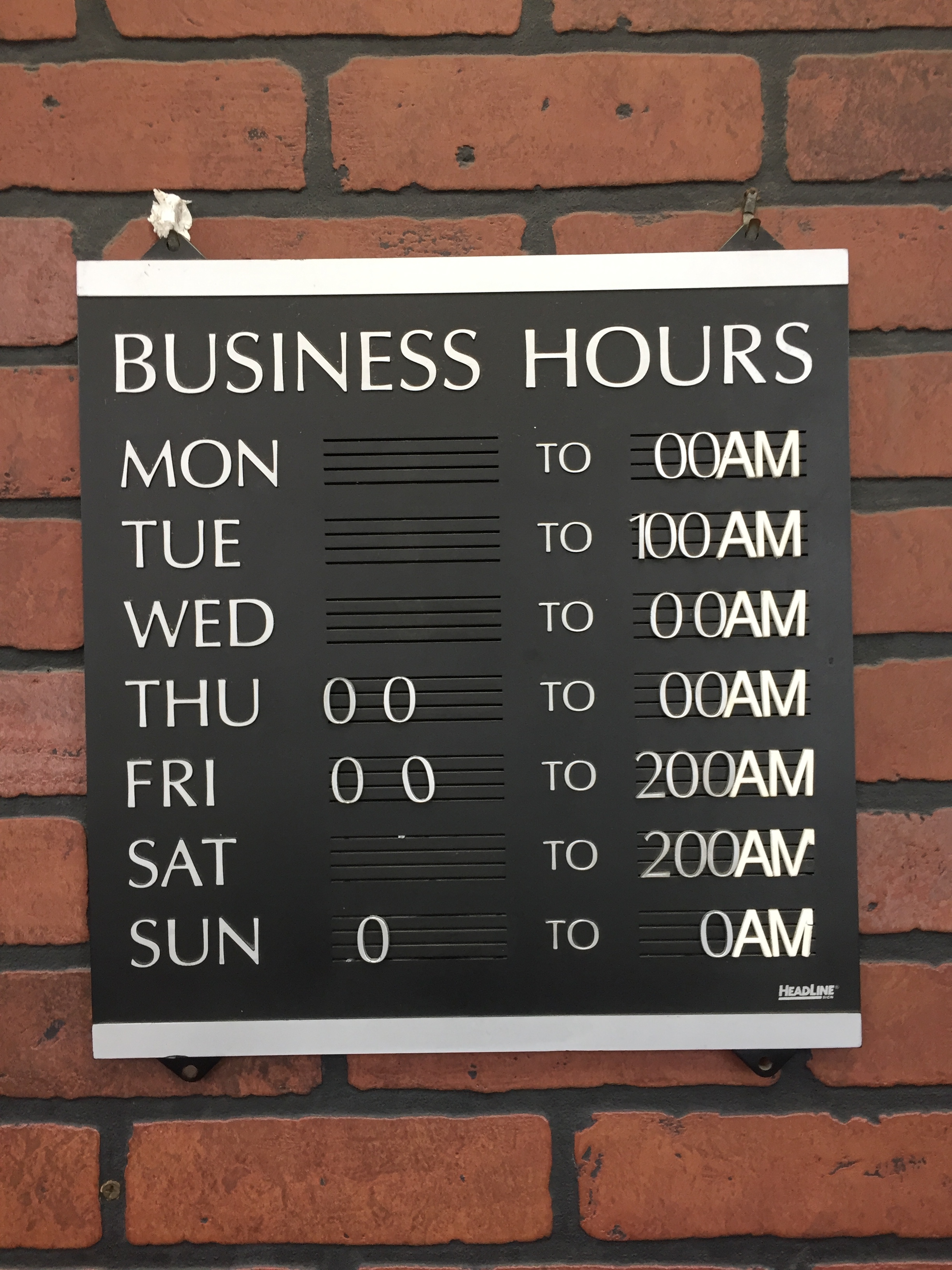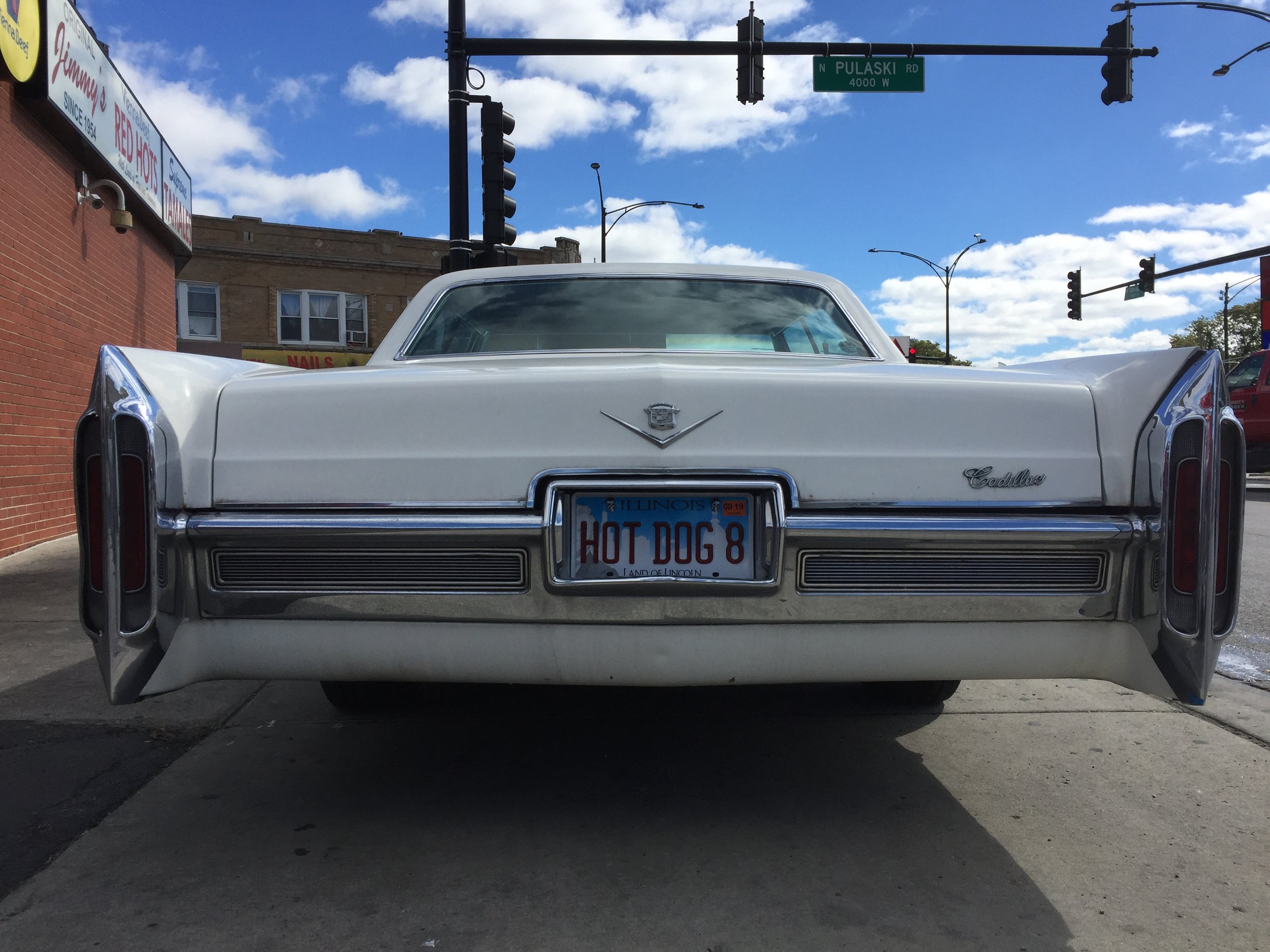 If the car is there, you'll know who's it is.
Saw this sign in Europe. The French dog at Steffs, looks like a competitive hot dog eaters ass hole.